Meet our Team:
Megan Owens, Executive Director
Claire Nowak-Boyd, Admin and Outreach Coordinator
Niño Laput, Social Work Intern
Anthony Bui, Community Engagement Intern
TRU does not currently have any paid positions open. Future positions will be listed here and announced in our e-newsletter.
Interested in volunteering? Sign up here.
Interested in interning? Find out more here.
Megan Owens, Executive Director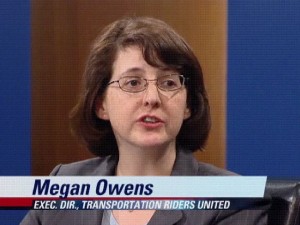 Ms. Owens coordinates and oversees all of TRU's advocacy, education, fundraising, and engagement, always maintaining focus on the goal of improved transit. She is TRU's lead spokesperson and a frequent source for local and national media. She led TRU's work advocating the creation of the Regional Transit Authority (RTA) and continues to watchdog their work.
She is also on the Executive Committee of the RTA's Citizens' Advisory Committee and the Oakland County Public Transit Authority, which oversees SMART bus service in Oakland County. Dedicated to ongoing learning, she completed fellowships with Detroit Regional Chamber's Leadership Detroit, the Michigan Nonprofit Association's Executive Leadership Fellowship and the Center for Progressive Leadership.
Previously, Ms. Owens spent six years with PIRGIM (the Public Interest Research Group in Michigan) leading the passage of state identity theft laws and advocating a reduction air pollution from coal-burning power plants. She has also worked on several political campaigns and taught environmental education in the Michigan State Parks.
A nearly lifelong Michigan resident, she graduated from the University of Michigan's School of Natural Resources and the Environment where she co-lead the nation's largest voter registration drive and promoted community service. She currently lives in Hazel Park with her husband and daughters and enjoys traveling, baking, video games, and Detroit's wonderful festivals.
Claire Nowak-Boyd, Admin and Outreach Coordinator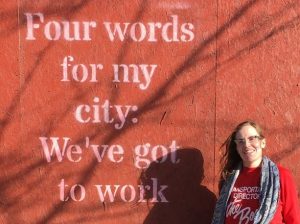 Ms. Nowak-Boyd coordinates TRU's administration, events, and member communications. She launched the Transit on Tap event series.
She graduated summa cum laude from Wayne State University with a BA in Urban Studies and a minor in Economics. She is best known for serving as past Executive Director of Preservation Detroit, and is passionate about improving transit as a way to spare historic buildings from being demolished for parking and freeway widenings. Ms. Nowak-Boyd worked as a Planner in lieu of a Zoning Administrator in the Planning and Development Department of the City of Flint. She has also knocked on doors doing foreclosure prevention outreach in Delray and 48217. An avid civic participant, Ms. Nowak-Boyd has attended and spoken at numerous public hearings about transportation related topics. She lives on the West Side of Detroit.
Niño Laput, Social Work Intern
Mr. Laput is studying Social Work at Wayne State University. Originally from Metropolitan Cebu of the Philippines, Mr. Laput is keen to the need of improved regional transportation and its vital role in providing access to resources. As an aspiring social worker, he is excited to learn more about how to engage different sectors of the community about the importance of bridging the gap between opportunities and resources, and to engage the marginalized sectors of the community who need it through the improvement of public transportation.
Anthony Bui, Community Engagement Intern
Mr. Bui is a Public Policy & Urban Studies student at the University of Michigan and TRU's summer intern. Originally from Grand Rapids, MI, he is currently participating in the Semester in Detroit program, which allows him to live, learn, and work in the City of Detroit, engaging with community leaders in transformative work.
He is a firm believer in "where transit goes, community grows." He grew up using public transit to go to class, work, and be with friends. He cannot imagine how different his life would be without public transit. He is and always will be an advocate for improving public transit service in underserved areas and encouraging transit ridership in Detroit and beyond. He looks forward with working with TRU to make Southeast Michigan a better place!