New mobility technologies and services are being launched in Detroit all the time: MoGo bike share, Uber and Lyft ride-hailing, May Mobility autonomous shuttles, Bird and Lime e-scooter rentals, and so much more on the horizon. What will their impact be?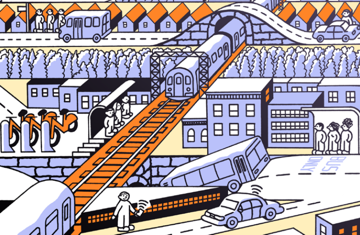 What does new mobility mean for transit?
Is new mobility a threat or a help in improving transportation equity?
Can new mobility complement transit to unlock universal, affordable access?
You've got two great opportunities to weigh in!
1. Please complete our survey to share your experience with and opinion on New Mobility! It'll take less than 5 minutes and will help shape TRU's work on this important topic.
2. Then join us for an expert panel discussion and Q&A:
Wednesday, November 28, 2018 • 6:00 to 8:00 PM
at TechTown Detroit • 440 Burroughs, Detroit
We're bringing in some of the area's top new mobility experts to ask them the above questions and more, including:
Elliot Darvick, General Manager of Lyft Detroit
Garry Bulluck, Detroit Office of Mobility Innovation
Lisa Nuszkowski, Director of MoGo
Introductions by Pam Taylor, Mobility Project Manager for Bedrock
Moderated by Stephen Henderson, WDET
We're pleased to be co-hosted by TechTown Detroit and sponsored by Liz in Detroit Real Estate, Hall Render, and Anderson, Eckstein and Westrick, Inc. Sponsorship and vendor tables are available.
Everyone is welcome to join this presentation and discussion – bring your questions! Doors will open at 5:30pm for registration and light refreshments. An RSVP and $20 donation are requested. However no one will be turned away.
A VIP speaker reception will be available from 5:00-6:00pm for a $50 donation – reserve your spot today.
Please help us spread the word by printing and sharing this invitation/flyer.