Detroit area transit needs improvement in a lot of different ways. TRU could educate, advocate, and mobilize for a lot of different transit improvements. But we can't take on everything, so each year, TRU's Board of Directors set priorities – choosing the projects, threats, and opportunities where we can have the greatest impact on the greatest improvements in transit.
This year, TRU push elected leaders to expand transit and urge voters to support transit. Specifically:
1) Countywide transit for Oakland County!!
It's absurd that people seeking jobs in Rochester Hills have to walk miles from the neighboring cities to catch a bus.
It's outrageous that a senior in Milford who can no longer safely drive has to beg rides from friends or be stuck stranded at home.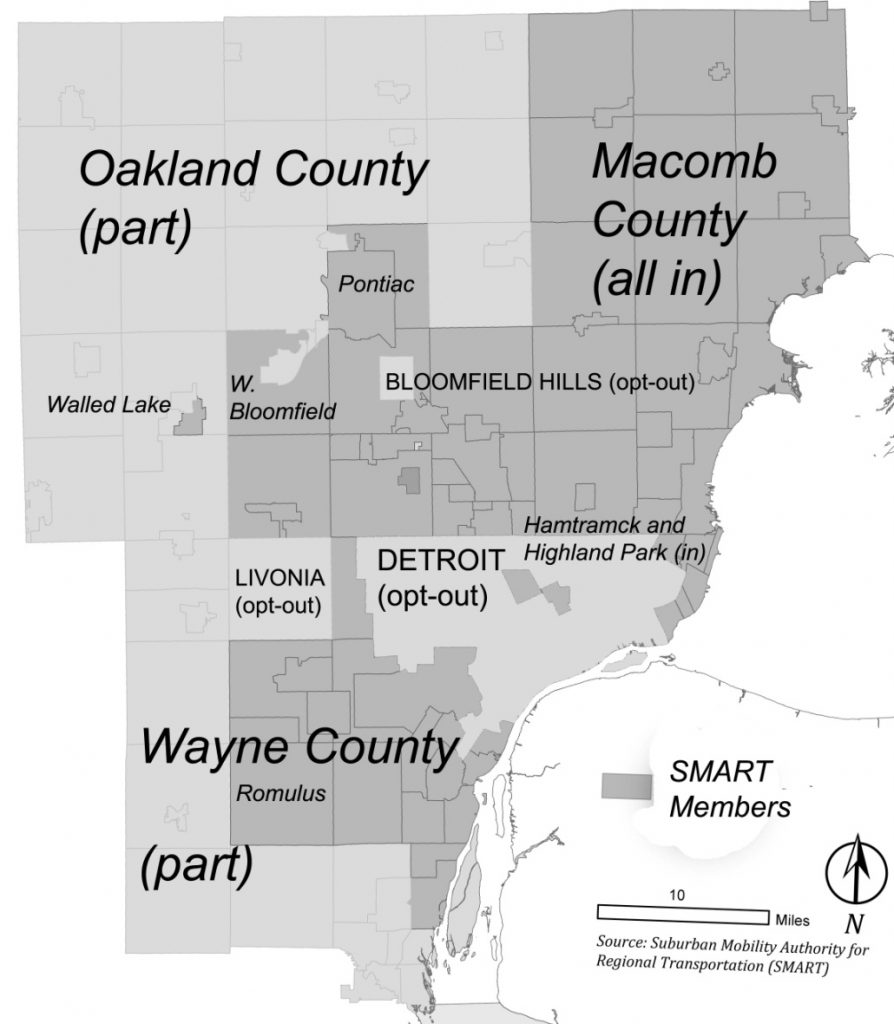 The Oakland County Commission can decide with a single vote to place public transit funding on the ballot throughout the whole county, and it's about time they do so! The Macomb County Commission has done so every four years for decades – it's time for Oakland County to catch up!
That would mean no more opt-outs in places like Novi or places buses can't stop like Bloomfield Hills. It doesn't mean that every township would have regular fixed route bus service – it doesn't make sense everywhere – but everyone would have some level of transit available to them and municipal boundaries wouldn't decide where the buses have to stop
That's why TRU will spend early 2022 working with and pushing Oakland County officials to expand transit by putting transit funding on the ballot throughout the whole county.
And we'll work throughout the year to make sure every voter across the County understands the value of transit funding and votes YES to expand transit countywide! Stay tuned for ways you can get involved to help.
2) Make MDOT act to expand transit!
The Michigan Department of Transportation (MDOT) might as well be named the Department of Highways based on how they invest their time and our gas tax dollars. It's time to change that!
MDOT needs to do more than just help buy new buses and manage Amtrak service. They should be strategically working out how to ensure every person across Michigan has some level of transportation that doesn't require them to own their own car. It can't be accomplished quickly, but it should at least be a goal they're working towards!
In 2021, TRU succeeded in getting the Council on Climate Solution to recommend expanding transit be part of the Governor's forthcoming MI Healthy Climate Plan. In 2022, we'll work to make sure its in that Climate Plan and that MDOT starts making it happen.
(We're still figuring out priority three.)
There are a lot of other vital needs in our community. With greater resources and capacity, we'd take them all on. For now, we're still working out how many and how we can address these important needs:
Myth-busing and expanding public understand of the value of transit through our Let's Talk Transit speakers' bureau civic engagement program
Quantifying what makes great transit, grading local agencies, and pushing for concrete improvements riders can feel
Reminding Macomb residents why SMART bus service is essential to ensure the Macomb County Transit millage passes with strong support
Support new mobility technologies that expand access equitably, affordably, and sustainably
Pushing for safer streets and bus stops
Pushing DDOT to provide better paratransit for Detroit's seniors and riders with disabilities
Making sure federal transit funds are spent on transit in ways that really benefit riders
. . .
Please donate today to ensure TRU can accomplish these important goals and expand the critical transit projects we can take on!
And mark your calendar on Tuesday evening, January 25, 2022 to learn the current State of Transit and how you can get involved in expanding transit!