The RTA is working to address one of the biggest gaps in southeast Michigan's transit: the complete lack of rapid transit throughout our region. Planning is underway for Bus Rapid Transit on Woodward, Gratiot and Michigan Avenues and for regional commuter rail connecting Detroit to Ann Arbor.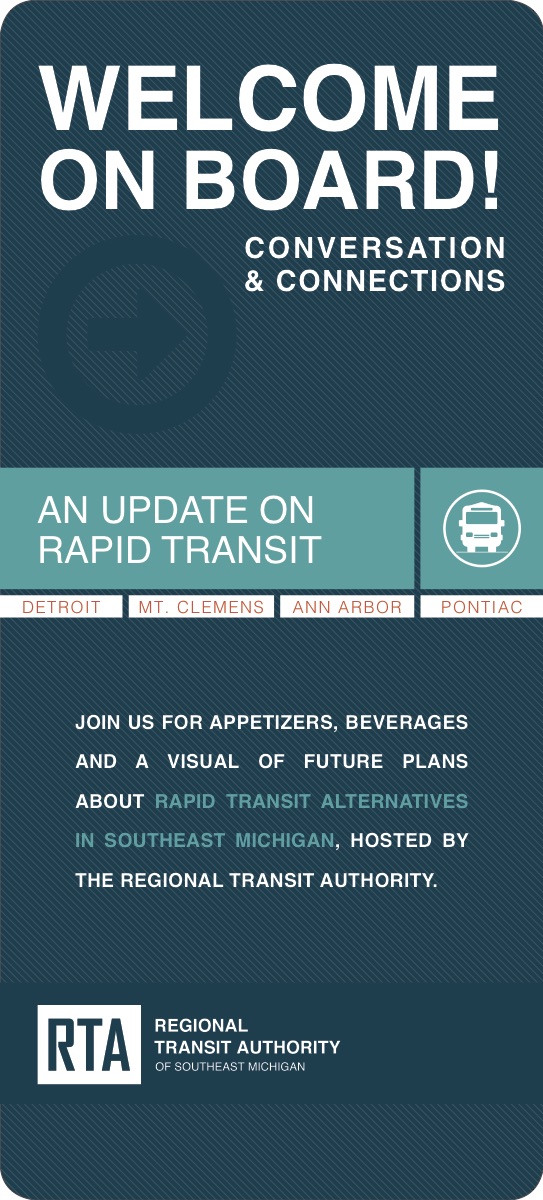 You're invited to, and asked to RSVP for, a series of public open house meetings to learn the latest plans, ask questions, and share your ideas and concerns:
Tuesday March 29, 4:00 – 7:00 pm

At Aloft Detroit at the David Whitney building, 1 Park Avenue in downtown Detroit

Wednesday, March 30, 4:00 – 7:00 pm

At The Collaborative: 21 N. Main Street, in downtown Mt Clemens

Thursday, March 31, 4:00 – 7:00 pm

At Shinola Ann Arbor, 301 S. Main Street, in downtown Ann Arbor

Saturday, April 2, 10:00 am – 12:30 pm

At The Crofoot Ballroom, 1 S. Saginaw Street in downtown Pontiac
Note: All events are open house style, so you can stop by anytime within the posted hours. The information presented at each meeting will be largely the same (although with varying emphasis), so attend the one that is most convenient for you.
Your RSVP is requested, although not required. All are welcome, so bring friends!
At each, RTA staff and consultants will tell you about proposed station locations, show you what a stop could look like and more. Oh and they're promising appetizers and drinks too!
For more information, special needs, or an accessibility information, call 313-402-1020.