Each year, TRU hosts The State of Transit, bringing together top voices in Detroit area transit to discuss progress, plans, and opportunities for improvement. This Tuesday, January 25, over 120 people joined this virtual event to hear from five great speakers, highlights of which are shared below. The full video can be watched on Facebook.
Following a welcome and introduction from TRU's Director, Megan Owens, the first half of the program featured transit agency leaders sharing their progress and plans.
Lisa Nuskowski reported on QLINE work towards their goal of consistent every 15-minute service:
"We've brought everything in-house, so we're completely locally owned and operated. We've redesigned the station monitors and it's now actually accurate and connected to the system. We were fortunate enough to get the ability to tow vehicles from the state legislature."
"We're seeing improvements of 20% in some cases" of on-time headways.
"One of the things that's made a major impact for us is the installation of the dedicated transit lane. It can obviously be used for streetcars, not only streetcars but buses as well. We would like to see how we can deploy more miles of dedicated transit lane."
"This will be the first use of signal prioritization that we've seen here in the city."
Detroit's Director of Transit Mikel Oglesby emphasized their efforts to restore consistent service and invest in additional improvements:
"All I can say now is recruitment, recruitment, recruitment."

DDOT Director Mikel Oglesby
Service coverage: "We improved service coverage over November… the percent of revenue mileage that is actually on the street. You have scheduled service miles, which we have scheduled approximately 172 a week we're providing 168 of that."
"I'm really excited that the RTA allocated $51m to us in ARPA funds. I wanna get some 60' electric vehicles in here to run up and down our Connect10 routes."
They want to upgrade Rosa Parks: "Maybe it's a place for youth to go after school. Maybe we can bring it to the next level and have retail." "I'm gonna be sitting with TRU and we're gonna work together on kicking it out."
SMART's new General Manager Dwight Ferrell shared their focused efforts to boost hiring and their microtransit success:
"We have incentives and bonuses for bus operators, mechanics, and bus cleaners. Creating an environment that people want to work in, and stay in, and have a career in, is the thing that we're trying to do first and foremost."
"Our ridership has recovered now, between 60-70% of the ridership that we had previously. Paratransit has recovered substantially and recovered the fastest."
"Our Flex service, which is basically our microtransit service, has been incredibly successful. We're almost up to 800 rides per day. We see this for a big future for us as a mode of transportation."
Re: ARPA funding, "We wanna make sure whatever we put in, we're able to maintain."
Ben Stupka shared RTA updates on coordination and federal investment:
"We're gonna be looking at fare modernization again and looking at whatever we can do with recovery dollars to support workforce efforts."
"How do we lead technology and not let technology lead us?"
"We're gonna be looking at regional corridors and see if we can bring those back to the forefront again."
Megan then talked with Oakland County Commission Chairman Dave Woodward about his vision for expanding transit countywide:
"I relied on SMART, I relied on DDOT to get me to and from college.… I was able to pick the bus up at 13 and Woodward, reliably get to school."
"I've always talked about our swiss cheese approach to transit. It doesn't make any sense." But now,

"

There's a new team in charge

that is going to change it, because we at our core fundamentally believe that solid, reliable, easily accessible transit is the backbone that is going to help this region survive."

"For the first time in Oakland County history when the SMART millage is coming up for renewal, we have a pro-transit majority on the County Commission… For the first time in history when the transit millage is coming up for renewal we have a pro transit Executive…. For the first time in history Oakland County has pro transit voters…."
"I envision new fixed routes across the county. If you have a mall or a university, you need to be connected to the rest of us…. Fixed routes that connect Novi to the rest of us, that connect Rochester to the rest of us, that connect Waterford to the rest of us."
Seeking to empower north Oakland county to get involved in saying what transit looks like in their communities.
"We have to take action, one way or another, this year…. Voters are used to voting on SMART in August, that's the goalpost" but may be later.
"It is time for Oakland County to stand united on transit, which means we are all in. 2022 is going to be a year great things are going to happen."
It is time for Oakland County to stand united on transit, which means we are all in.

– Oakland Commission Chair Dave Woodward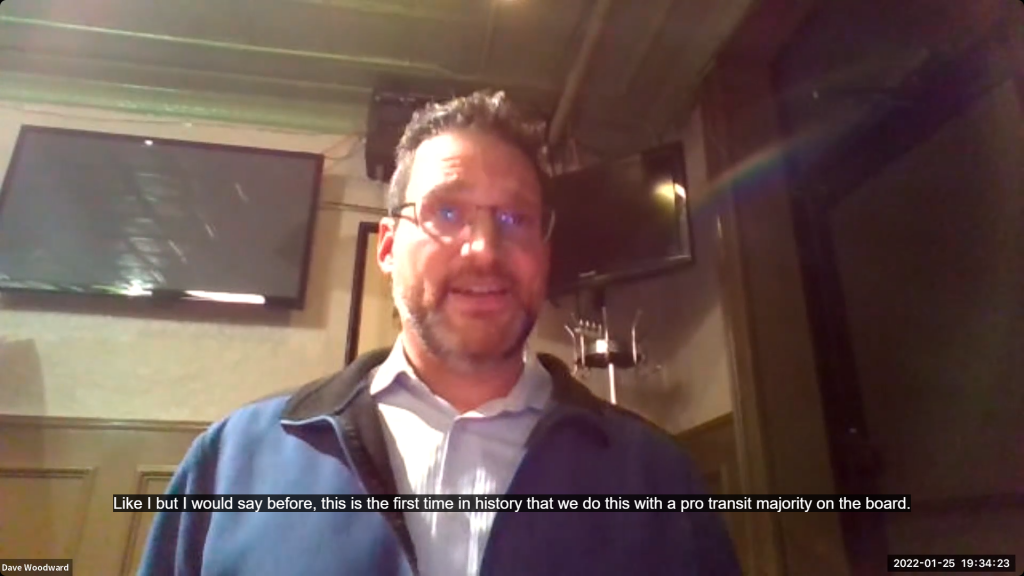 Following these great guest speakers, Megan shared TRU updates and invited everyone to get involved!
Proud to have fought for and won major federal funding for transit

Now working to make sure those funds are spent wisely!

Working to ensure the MI Healthy Climate Plan features transit expansion

Had some interim wins, getting our ideas into Council recommendations
Now the draft plan is out – a good start, but needs more
Need help – send comment, join comment meetings, share!!

SMART millage campaign!!

Need to educate, bust myths, and start the conversation

Oakland outreach team
Macomb outreach team
Speakers bureau

Need to build broad base of support

Coalition building
Prep for vote-yes campaign

And help DDOT plan for greatness

Develop better metrics
Participate in DDOT planning process

Please sign up and get involved!!
Megan also thanked current and departing Board Members.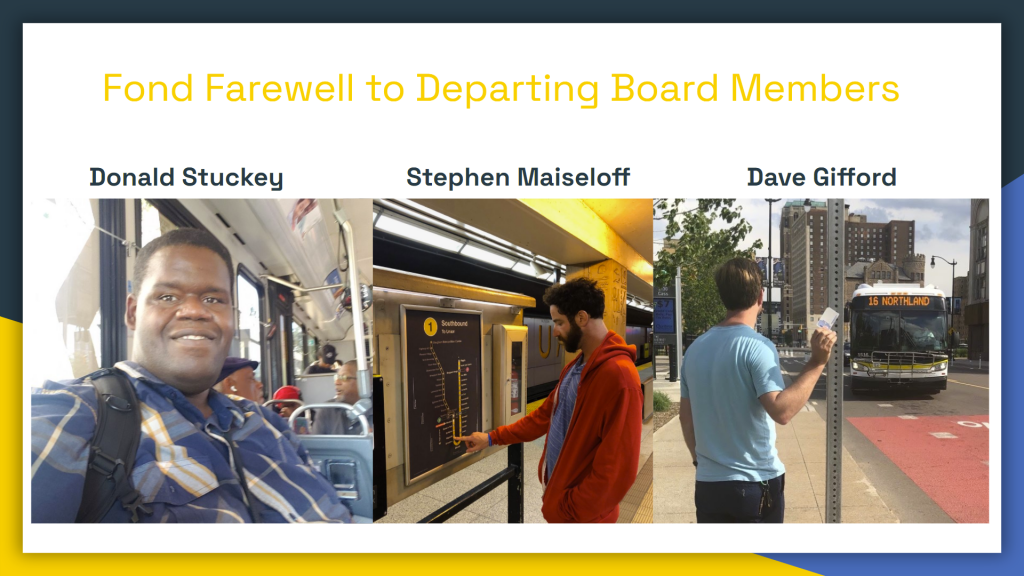 Then current TRU members voted to elect the proposed slate for TRU's Board of Directors. Welcome to this great new group of leaders!
Thanks again to all our speakers and participants, and to all the TRU members who made this event and all our work possible!