For a public transit system to be effective, it needs sufficient dedicated funding for long-term operations. Nearly every major metropolitan area has a dedicated regional transit tax that supports its construction and ongoing operation of buses, trains, senior shuttles, rapid transit, streetcars, and more. Other than SMART's modest millage, our region lacks such a funding source.
Investing just a third of what most metro regions invest, we get what we pay for: not much.
Even though Detroit is the 11th largest metro region in the nation:
The Detroit region spends less on transit than 38 other regions, including Milwaukee, Columbus, St. Louis, Las Vegas, and Kansas City!
(Download the chart for yourself)
Even comparing just to other midwest or medium-sized metro regions, we invest the very least: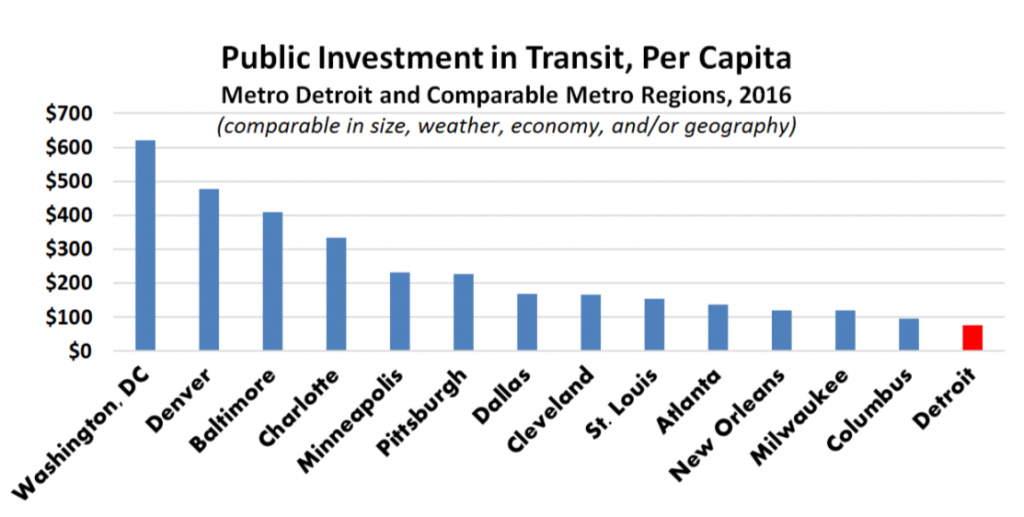 The Regional Transit Authority analyzed the gaps and limits of southeast Michigan's transit and developed a plan to provide much more of the transit our region needs. The Regional Transit Master Plan was approved in 2016 by the RTA Board, with support from all four counties and the City of Detroit:
This plan was broadly supported and endorsed by over 250 leading businesses, organizations, and civic leaders, including: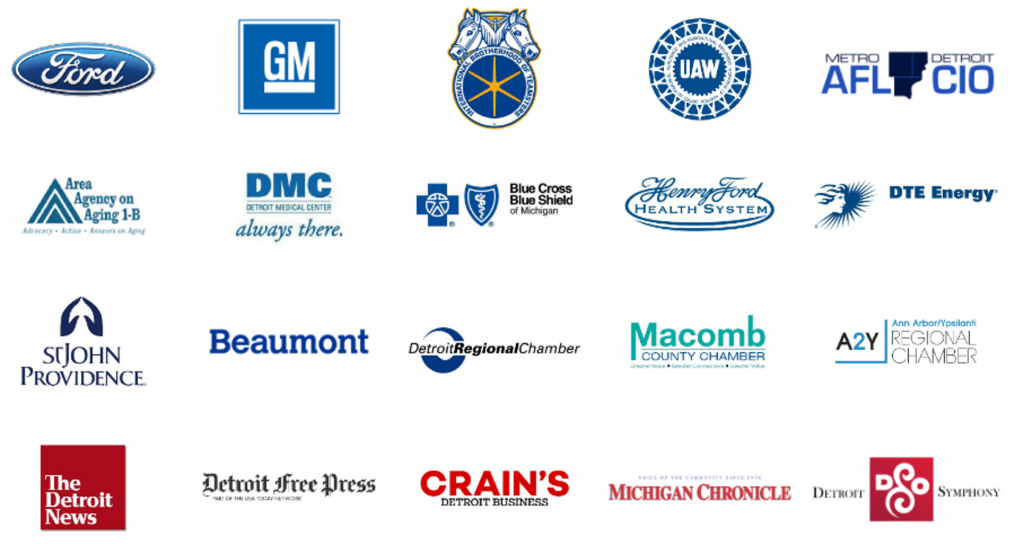 While the 2016 vote on whether to invest 1.2 mils over the next 20 years to implement that plan was narrowly defeated, preventing the major investment we need, several lower-cost components of the plan have been implemented:
Seamless express bus service on busy corridors (FAST bus)
Coordinate fare structure (DART)
Express bus service linking Detroit and Ann Arbor is scheduled to start in early 2020.
The RTA has been working hard since to learn people's concerns about the previous plan and update it to better serve the region's needs.
If we can get a regional transit funding measure back on the ballot with enough public support to pass, we can finally invest in the high quality region-wide transit southeast Michigan needs!
Individuals Take Action: Tell the RTA board and your county executive that you support dedicated public investment in improved and expanded public transit.
Learn more: