Amanda Jaczkowski is a busy woman with places to be. Between working as a Child Nutrition Navigator for United Way, being a Wayne State graduate student, and maintaining active volunteerism, Amanda frequently travels across metro Detroit. And while used to primarily travel via car, a severe biking accident in 2017 left Amanda wheelchair-reliant, and requiring public transportation. Chronicling her DDOT transit experiences in her blog, The Girl with a Face, Amanda's story is an amazing example of resilience, the improvements our transit system needs, and the overall importance of public transportation access. 
Once Amanda left the hospital, she faced a lengthy recovery process. However, she was determined to continue her education and community work. In order to keep attending classes and make meetings, Amanda now had to take the bus. Before riding, Amanda considered the service in Detroit "dismal". Unfortunately, her first time on the bus matched her expectations. After waiting for almost an hour, Amanda and her traveling companion cut their losses and called a Lyft.
Instead of swearing off public transportation though, Amanda rose to the challenge and adapted. She kept riding the bus, eventually obtaining a Reduced Cost for disability DDOT pass. Like her first bus ride, the process of obtaining the pass was difficult. Yet Amanda kept pressing on, and despite system inadequacies, kept on riding.
Nowadays, Amanda has become a vocal transit ally. She routinely discusses the privileges able-bodied individuals have when riding on her blog, and advocates for equitable services. She also helped host "The Untokening", a large public transportation conference where diverse participants held "meaningful, deep discussions" about transit gentrification (downtown bike lanes, the Q-Line), and mobility justice.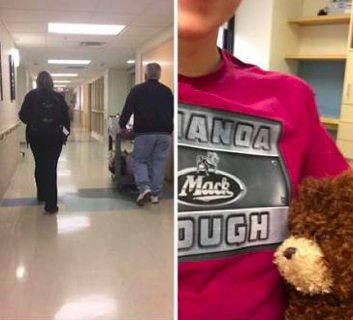 Amanda has made great progress physically, and is now walking. It is also quite admirable how Amanda uses her perspective on transit to advance mobility justice, or "the deconstruction of racism, classism, and ableism" within public transportation systems. More individuals should look to Amandas' journey as inspiration to keep fighting for public transportation, and follow her example for being a strong, fearless advocate.
To read even more of Amandas' story yourself, check out her blog at girlwithaface.wordpress.com