On Wednesday, October 23rd, Transportation Riders United was honored to host four expert panelists for our "Mobility and Equity" event. The event was sponsored by Bedrock and held in their scenic Beacon Room downtown. Mobility & Equity was equal parts panel presentation and audience interaction. 
Coming from both across the Midwest and Metro Detroit, our Mobility & Equity panelists represented multiple viewpoints and shared diverse experiences.
Prashanth Gururaja discussed how his organizations, Shared Use Mobility Center, helps "cities develop transportation solutions for all." Some examples he cited were wheelchair accessible micro transit initiatives in Seattle, and free 15-minute bike share rides in Pittsburgh neighborhoods. Gururaja was particularly passionate about equity for people with disabilities. "There is no reason that if you are in a wheelchair… you should not have the same spontaneity as everyone else," he stated. 
Grant Rowland and his company Via use technology to coordinate effective micro transit routes for different urban communities. Rowland detailed how Via uses a sophisticated algorithm to "partner riders more efficiently with rideshare vehicles." He reported that Via has a vested interest in "mobility for all," and most recently partnered with The Rapid in Grand Rapids on a pilot to test improvements to its paratransit service for people with disabilities. 
Andy Palanisamy from Ford Mobility presented Ford's longitudinal study of Detroit's mobility strengths and concerns. Through the study, Palanisamy illustrated how the introduction of the modern automobile in the early 1900s brought about vast "generational change," and shifted society towards becoming urban. "For the first time in history," he explained, "more than half of the world's population is living in cities." Palanisamy emphasized the private sector's responsibility to accurately understand and address local mobility challenges.
Bedrock Parking and Mobility Vice President Kevin Bopp then illustrated some concrete examples of how the private sector is attempting to meet these mobility challenges. He stated that every mobility initiative Bedrock undertakes is done intentionally, with Detroit's social landscape in mind. From their carpooling and subsidized bus pass programs to their employee/resident shuttle service, Bopp highlighted all Bedrock does to encourage alternative commutes and prevent further the construction of more parking. He also stressed that some transit developments are better left to the public sector, and that Bedrock approaches equity from an economic development standpoint. "This is a city built around the car," he noted, "and this [carpooling] is our gateway drug."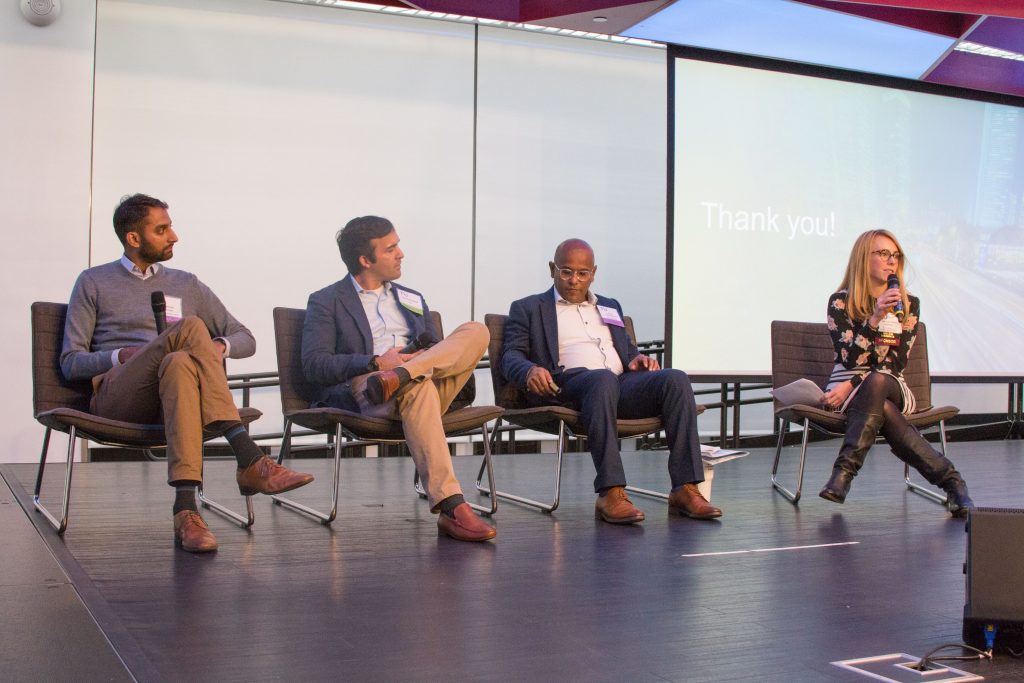 Following panelist sharing how their work advances equity, the event broke into small group discussions of how to make greater progress enhancing equity in new mobility, which resulted in some great input brought back to the group.
Attendees then asked spirited questions about accessibility and accountability. The presentations and audience dialogue alike covered a range of perspectives on transportation, and highlighted how nuanced an issue new mobility is.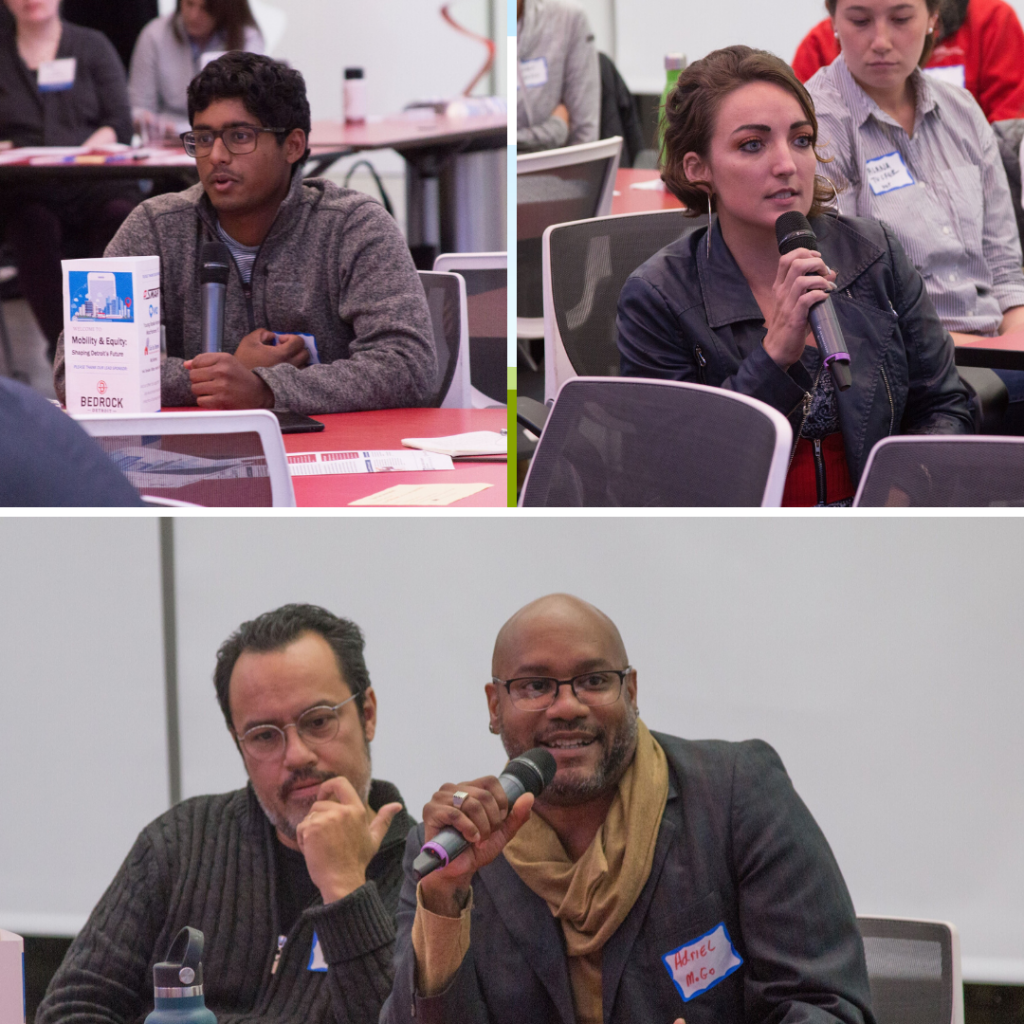 In particular, a comment from activist Melissa DiVietri stood out. Addressing service inequality for those with disabilities, she asked: "Why do people get to pick up a scooter and get 4 blocks… when people like me can't get around easily?" DiVietri mentioned that she documented her attempts to use the Q-Line and People Mover, modes she said "completely failed her." Bopp responded, pointing to the need for increased public & private partnerships to systematically address inequities. 
In all, "Mobility and Equity" was a robust conversation that felt both wide-reaching and intimate. Small groups tackled big ideas, and attendees were able to share their thoughts with regional experts. New mobility is a complex topic to unpack, and through this event, TRU created a forum for our transit community to take critical first steps. 
TRU sends out a big thank you to our speakers, our sponsors, and everyone who helped make this event great!