TRU is hosting a series of Transit Tuesday Talks!
Following the success of our State of Transit events, these monthly events bring transit leaders, riders, advocates, and allies together to dig into important transit issues facing the Detroit region.
Some are solely virtual, others are primarily in person with an online option. We're going to different parts of the region and partnering with a range of different groups to spotlight all the key transit issues. And we're bringing in a range of transit leaders and experts to share what they know and to answer your questions.
Up next: May 23, we'll head up to Pontiac for an update on SMART's expansion throughout more of Oakland County in partnership with Oakland Forward!
Where: At the Baldwin Center, 212 Baldwin Street in Pontiac

on the SMART FAST 462 bus line

When: Tuesday, May 23, 6:00pm

Networking reception starts at 5:45pm (for in-person attendees)
Program starts at 6:15pm

Hosted by

Transportation Riders United
Oakland Forward

Speakers Include

Dave Woodward, Oakland County Commission Chair
Bernard Parker, SMART Vice President of External Affairs
---
Future Events:
June 20 will focus on mobility in downtown Detroit, with speakers from QLINE and the Detroit People Mover
July 18 will focus on biking, active transportation, and pedestrian accessibility, with speakers from Detroit Greenways Coalition
We're considering future Transit Tuesday Talks focused on:
The needs of our allies with disabilities for great transit;
How rural transit works today and how it can be improved; and
What topics would you like to hear more about? Send your ideas to Deb @ DetroitTransit.org!
We look forward to seeing you!
---
Past events:
April 18 – Earth Day-themed event
Around Earth Day, TRU and allies discussed how public transportation can be a critical part of the solution to the climate crisis with policy actions by state and local leaders.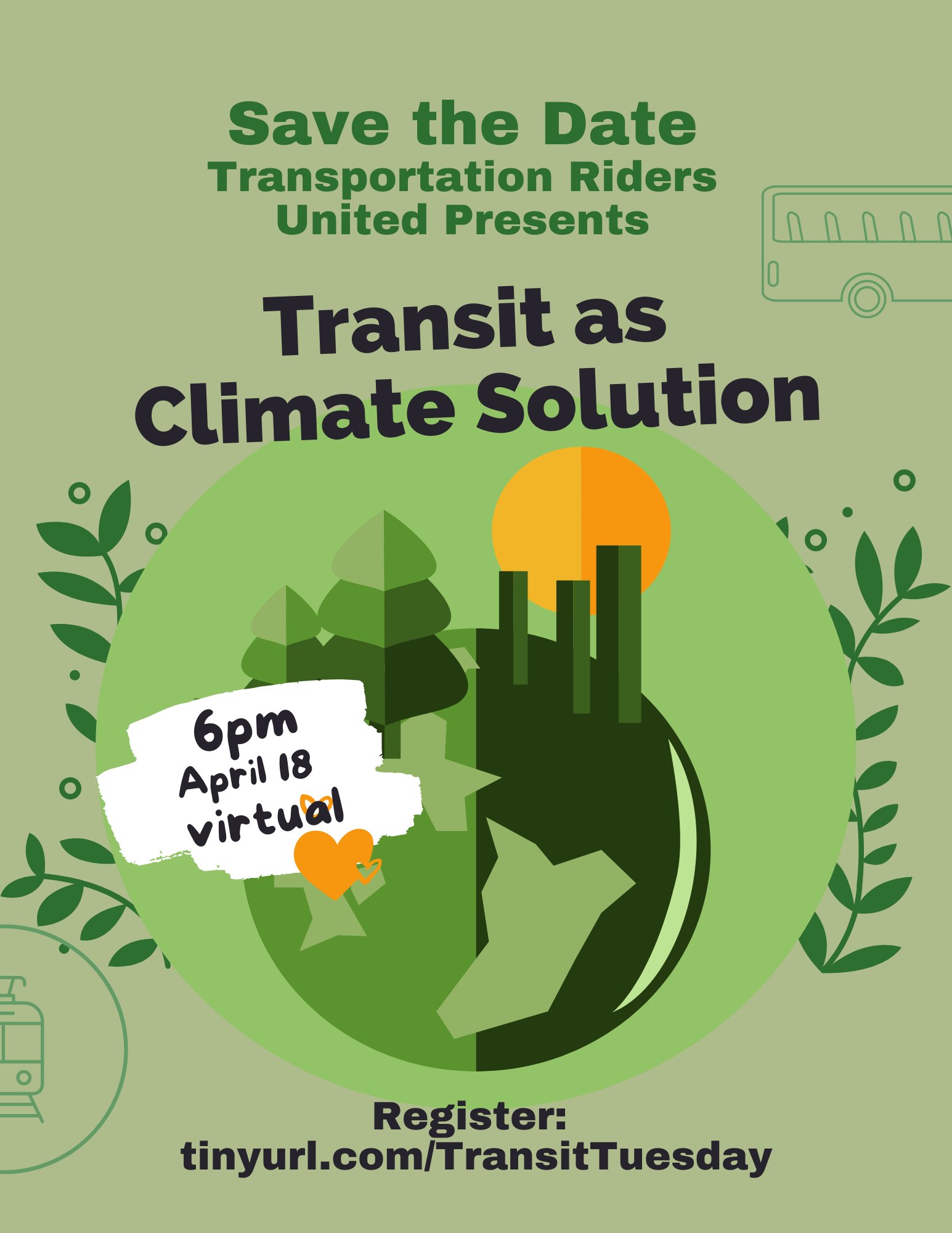 March: DDOT
On March 28, we went to Detroit's Eastside Community Network to focus on DDOT, with special guest Mikel Oglesby, Detroit Director of Transit. He provided updates and took questions on:
The DDOT Reimagined planning process,
The driver shortage / bus no-show crisis,
Bringing more of paratransit in-house, and
How DDOT fares in the City budget.
First Transit Tuesday Talk – February 21 – on Transit Funding
This first event was Tuesday February 21 from 6-7pm on Zoom focused on transit budgets, including
What it takes to get buses and drivers providing riders to tens of thousands of riders each day,
How Detroit, the region, and the State of Michigan have funded transit over time,
What we can learn from how other metro regions fund their transit,
What it will take to provide sufficient stable funding for the transit our communities need,
And what YOU can do to join the fight for the transit funding we need!