In case you haven't heard the bad news:
Daily commuter train service will NOT begin running between Detroit, Metro Airport, and Ann Arbor this fall as previously promised.
There may be some special train trips for big events this fall, but regular daily service will be dependent on finding funding.
This is a huge disappointment, as this train service has been studied for decades and in the works for the past five years. SEMCOG blames the fact that they didn't get the federal stimulus funding they applied for. However the project was under development long before any federal stimulus was even dreamed up.
In Ann Arbor.com,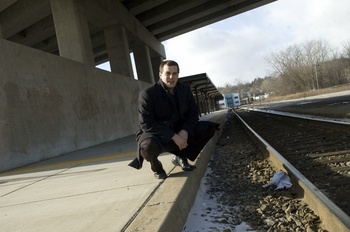 Washtenaw County Commission Chair Jeff Irwin called SEMCOG's failure to deliver the project on time a "colossal failure" and questioned whether the County should remain in SEMCOG. 
Commissioner Conan Smith noted the importance of regional cooperation but complained, "When the prioritization is the automobile and the widening of roads, and a signature project in the SEMCOG region ends up being expanding M-59 by another two or three lanes, that over regional rail? The priorities are messed up," he said.
Peter Allen, an Ann Arbor real estate developer, said the city of Ann Arbor, Detroit and Ypsilanti should take charge and not leave it up to SEMCOG to make the project happen. "I think we need someone to stand up and shout that it has to get done."
We call on project sponsors MDOT and SEMCOG to develop and publicize a clear timeline and budget for launching this vital train service within the next year. This will require:
1) One or more dedicated staff people with real experience developing train service elsewhere in the country (let's learn from other successful regions, not reinvent the wheel!)
2) Serious transparency and accountability
3) Reprioritization of transportation funds, dedicating the funds needed to make this project successful, even if that means delaying road repairs or other transportation projects.
To help us in this effort, please contact TRU project leader Pat Droze.