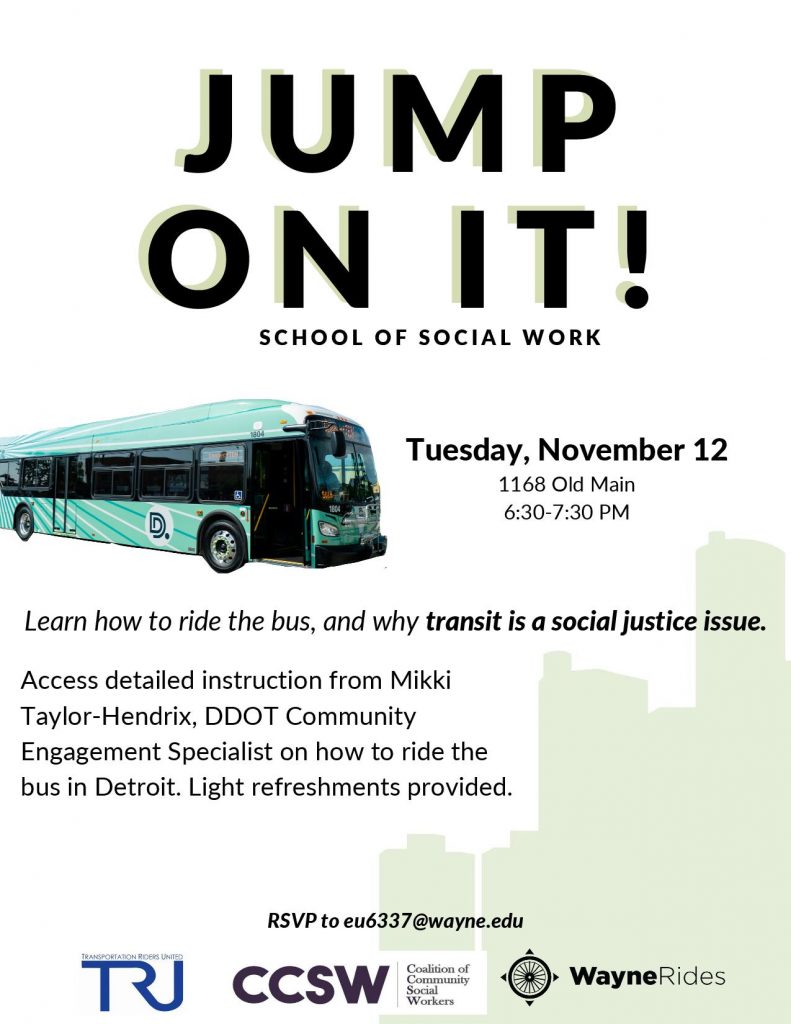 Transportation Riders United (TRU), WayneRides, and the Coalition of Community Social Workers (CCSW) invite you to Jump On It!, a bus training event for social workers! Join us as DDOT Community Liaison Mikki Taylor-Hendrix presents detailed instructions on how to ride the bus in the Detroit area. Jump On It will also feature a short discussion on why public transportation equity is an important social justice issue, facilitated by TRU Executive Director Megan Owens.
Although the content will be geared to social workers, everyone is welcome at this training.
Jump On It will take place on Tuesday, November 12th, from 6:30 – 7:30pm, in 1168 Old Main (Old Main is on the corner of Warren and Cass). Light refreshments will be provided. To RSVP, please contact Andre Iadipaolo at eu6337@wayne.edu. You can also RSVP on Facebook here.
This training is part of a broader effort TRU is launching to encourage more people to try riding transit, including training people on how to ride. Stay tuned for more ridership trainings in the future! If you or your organization are interested in hosting a training on how to ride transit in Detroit, please e-mail us at info@detroittransit.org or give us a call at (313) 963-8872.