While regional transit funding was not on our metro Detroit ballots, communities all across the country voted on related investments – and they overwhelmingly passed!
We cheer the gains for transit and addressing climate change as measures were approved across the country in Austin, San Antonio, Seattle, Missoula, Denver, and in California's San Francisco's Bay Area. Overall this year, the Center for Transportation Excellence has found that 47 out of 53 transit ballot measures have passed – that's a 92% yes rate!!
Voters approved public money to support their public transportation systems even with ridership temporarily down given the pandemic. The voters acted on what we all know — that transit will be the backbone of a more equitable, just and sustainable recovery.
A summary of ballot measures passed Nov 3 that will benefit transit:
Austin passed two measures that will double the city's light-rail network, build a subway, and grow its bus and bikeshare service
Bay Area passed a sales tax to support CalTrain to expand service, increase train frequency, and make the commuter rail system more affordable for lower-income riders
Denver passed a 2.5% sales tax increase to curb climate change, including improvements to the city's transit system
Missoula MT passed a 20-mill levy for Mountain Line to expand weekend service, increase bus frequency, convert buses to electric, and support the Zero Fare program
San Antonio redirected public money to support public transportation
Seattle passed a sales tax to fund transit (see below)
Sonoma CA passed a sales tax for transportation, 35% of which goes to bus, bicycle, and pedestrian projects – passed with 72% support
Here in Michigan, all four local measures passed: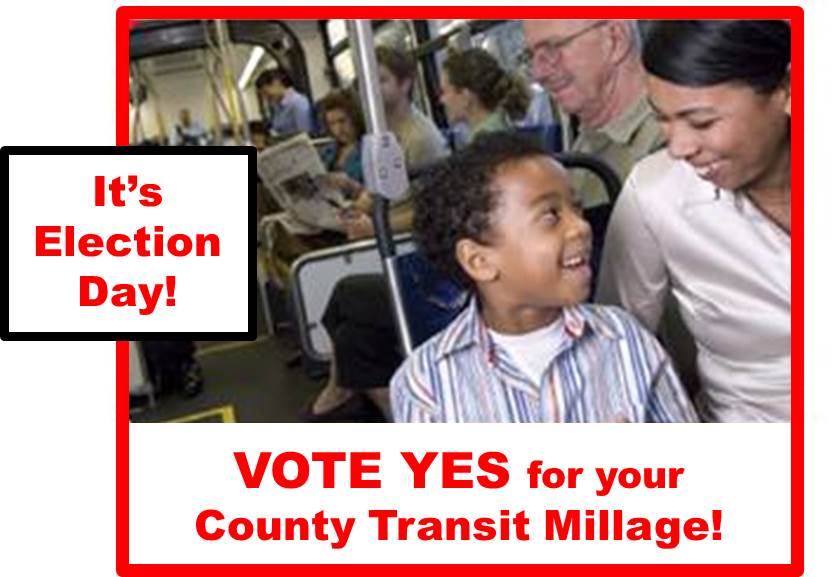 Monroe passed a 1-mill levy renewal for Lake Erie Transit for 3 years with 72% of the vote
Shiawassee Township successfully renewed a 0.1168 millage for public transportation with 68% yes vote
Durand passed a 0.215 millage for public transportation
St. Louis, Ithaca, and Pine River Township all passed a 1 mil property tax to join Alma Transit
Local public transit in Michigan is funded almost entirely local property taxes that must be approved by voters and renewed every few years.
Unfortunately, the following measures fell short:
Measure 26-218 in Portland, OR, which would have increased income taxes by 0.75% to fund a large slate of transportation, transit, and safety improvements throughout the region to address historically inequitable transportation planning;
A measure in Newton County, GA, to institute a 1% TSPLOST sales tax that would benefit transit.
Here are a few examples of success:
Voters passed Seattle Proposition 1 with a record-breaking win of over 81% of the vote.
"This overwhelming show of support makes it clear that Seattle residents want and expect a robust transit system that serves our city's needs."
Seattle Proposition 1 renewed and increased the sales tax by 0.05% to 0.15% to fund:
150,000 transit service hours every year for 6 years;
Most Seattle households having access to at least one bus every 10 minutes;
A free ORCA card in the hand of every public high school student, building a generation of transit riders and connecting young people to opportunity;
Affordability programs that ensure transit access for essential workers and low-income Seattleites;
Capital projects in transit corridors to maximize efficiency and reliability.
Austin Texas passed the Project Connect Tax Rate and Mobility Bond:
Prop A will fund a subway line, two new light rail lines, connected by a downtown hub, plus improvement funding for existing bus routes and other transportation infrastructure worth $7.1 billion through an 8.75-cent no-sunset hike to Austin's property tax rate.

Includes $300 million to counteract the gentrification that the expanded transit system could spark

Prop B improves pedestrian and biking infrastructure with a city loan of $460 million.
The votes were considered a particular win given the city's past appetite for such plans: Similar measures failed in 2000 and 2014.
Voters in our community deserve transit just as great. That's why TRU keeps fighting to get transit back on our region's ballot and ready to win! Please support that essential work.