Do you want to help shape the future of Detroit area transit?
TRU accepts applications to join our Board of Directors and might be looking for someone just like you!
TRU's Board of Directors sets our mission and goals and ensures TRU has the capacity to succeed. Board members are critical ambassadors to the community.
To ensure everyone can get where they need to go, TRU seeks potential new board members to unlock doors to new resources and relationships. Our charge at TRU is to ensure every citizen, including our most vulnerable, can get where they need to go, having access to jobs and opportunities regardless of whether they drive.
We are seeking leaders from the region's business and civic realms to join us in shaping that future. Together, we can build a more vibrant and inclusive Detroit region.
Applications are now being accepted!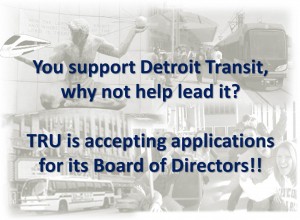 Please review our Guide for Prospective Board Members to learn more. Applications are generally accepted in October and November – online or by downloading the pdf application – and are reviewed in December for a 3-year term that starts in February.
To ensure we represent the diversity of the Detroit region, we are especially seeking applications from:
African Americans and Latinx,
Seniors and people with disabilities,
Macomb and Washtenaw County residents,
People with strong connections to Detroit's business community, and
Daily bus riders.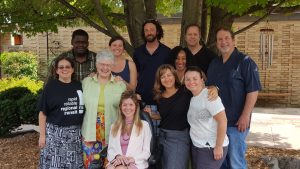 TRU's Board Development team evaluates Board candidates in comparison to the skills and connections we need and makes recommendations to the full Board of Directors. The membership votes to approve the board slate at our Annual meeting in late January.
TRU's Board meets eight evenings per year plus a day-long leadership retreat. Members serve three-year terms, with the ability to serve two consecutive terms.
If you're curious or interested, please reach out to TRU's Board Vice President Stephen Maiseloff at (248) 302-0317 or TRU staff at info@DetroitTransit.org.