Thanks everyone who made this an excellent event, especially our 3 bus rider speakers, 6 agency leaders and 160 attendees!
Back in person (and online) after three years, the State of Transit Annual Meeting was a smashing success. The TRU Community shared 2022's victories and this year's goals, including:
Address the bus operator shortages at DDOT and SMART.
Work with new state leadership to increase public transportation funding in 2023
Create a long-term strategic plan while remaining flexible to work on issues that spring up.
If you would like to get involved with TRU, there are volunteer meetings every 2nd Thursday of every month. Contact Joel for more information.
If your organization would like to partner with TRU to bring about more and better transit our community needs during this rare opportunity to work with a friendly state legislature, please contact Debbie.
If you are unable to volunteer your time, but would like to support the TRU Community, please consider becoming a sustaining donor so TRU can continue all of this important work.
Riders Voices Heard by All
Some of metro Detroit's most loyal bus riders were there to share their experiences and perspectives on the State of Transit.
"Even with all of the progress we've made, I have experienced many missed runs, and have had to call #Uber…it's expensive and inconvenient."

Kathy Meagher, a regular transit rider from Grosse Pointe who values her independence but cannot drive to due a vision impairment
"Focus on DDOT's accountability. The way the buses run now is unacceptable and we need to properly fund public transit."

Donald Stuckey, a frequent rider from Dearborn who works in Detroit
"I'm thankful for public transit so my family doesn't have to spend money on another vehicle. But our public transit doesn't compare to any urban area."

Lukas Lasecki, a young person from Farmington Hills uses the bus system to go to OCC.
TRU is grateful to riders like Kathy, Donald and Lukas who take time out of their busy schedules to come and let their voices be heard. TRU will always make sure riders are represented.
Greater Detroit Transit Leaders Tell It Like It Is
Greater Detroit's public transportation leaders were on hand to talk about the accomplishments of each transportation agency in 2022 and talk about their priorities for the coming year. You can watch the presentation in its entirety (Facebook Parts 1 & 2), but below is a list of just a few highlights from each of the transportation agencies' presentations:
Oakland County:

Passed a bipartisan Oakland County Millage in 2022, doubling the Oakland investment in public transit. In 2023, the real work begins.
Tax dollars come in starting Feb 1. Signing contracts with agencies in the next month.

SMART:

Acknowledged the challenges facing SMART today and gave us a peek into the efforts to diversify SMART's fleet and update SMART's communications technology.

DDOT:

Acknowledged the bus operator shortage at DDOT and efforts to fix the situation
Discussed DDOT Reimagined. Watch for DDOT public input sessions to review the newest plan at DDOT and help them get it right.
DDOT is 100 years old now!
2023 starts efforts to bring paratransit services in-house.

Detroit People Mover:

Operating for over 35 years, the People Mover is adding trains as ridership recovers from the COVID Pandemic, currently running 7 minute headways with a goal of getting to 3 minute headways by May 30th.

M1 Rail (QLine):

Fare-free since September 2021 and delivering 15-minute headways nearly 70% of the time.
Ridership has grown to pre-pandemic levels and M1 Rail will execute additional programming partnerships.

RTA:

In 2022, RTA was awarded funding to pilot an airport express service from Detroit to Detroit Metro Airport that could start next year.
RTA currently has calls for projects out for coordinated reginal investments, health and wellness programs to support seniors and people with disabilities.
Please enjoy these recordings, if you missed it or want to revisit it.
---
---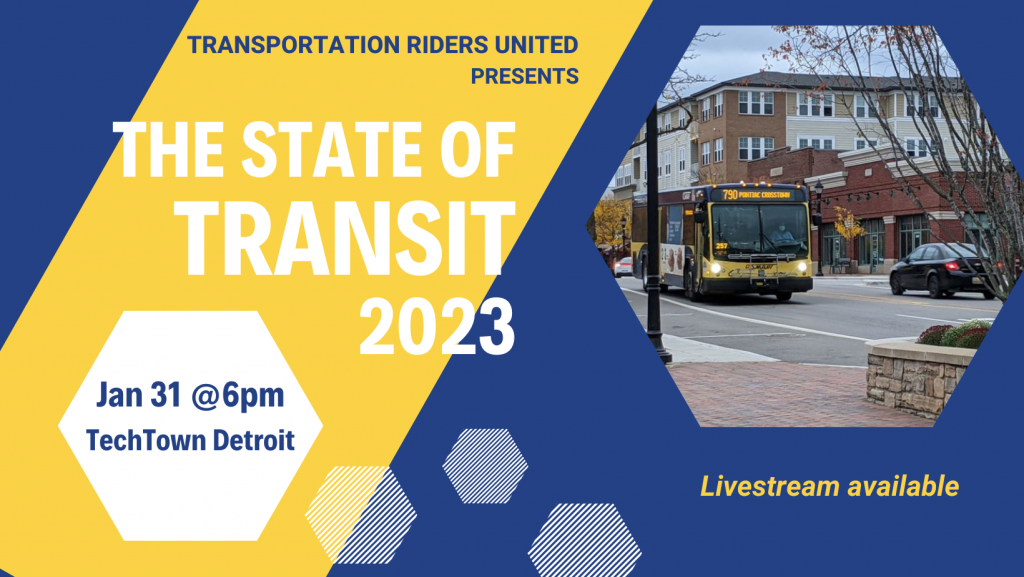 Top transit leaders, advocates, and riders will share progress from 2022, plans for improvements in 2023, and your role in making it happen!
When: Tuesday evening January 31 at 6pm
Doors open at 5:30pm for registration, refreshments, activism, and networking to start the evening off. See those people you haven't seen in three years!
The official State of Transit program will run from 6:15-7:45pm, followed by dessert and more activism and networking opportunities.
Where: TechTown Detroit
TechTown Detroit is at 440 Burroughs in midtown Detroit. Just west of Woodward and south of Grand Boulevard. It's conveniently located near all Woodward transit routes and the DDOT 16, 23, and 42 buses.
Free parking is also available, located off Amsterdam between Woodward and Cass. The entrance to TechTown is just west of Cass on Burroughs Street (one block south of the parking lot.)
Note – in-person registration is nearing our 120 person capacity. The event will also be livestream virtually for anyone unable to attend in person.
Who: Everyone is welcome!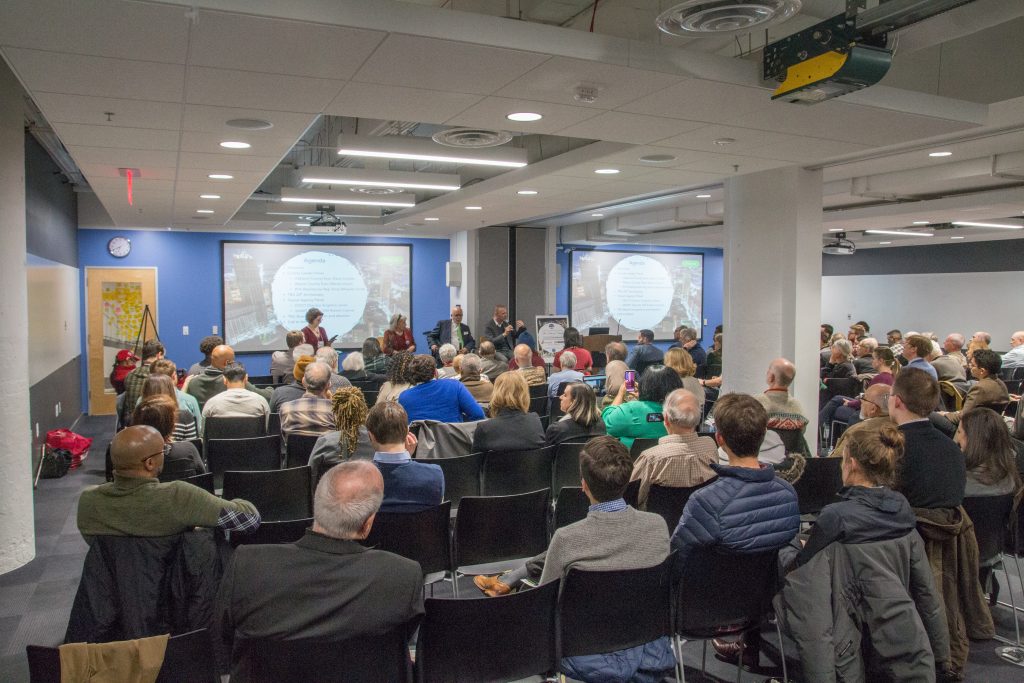 The State of Transit speakers will include:
Oakland County Commission Chairman Dave Woodward
Detroit Director of Transit Mikel Oglesby
SMART Deputy General Manager Tiffany Gunter
M-1 Rail President Lisa Nuskowski
People Mover General Manager Robert Cramer
RTA Chief Operating Officer Harmony Lloyd
Several area bus riders
TRU staff sharing our progress and priority plans!
How:
There is a suggested donation of $25 to cover event costs and support TRU's year round transit advocacy. Everyone who gives $5 or more becomes a member of TRU for the year. Everyone is welcome with or without a donation.
Please note, masks will be required whenever not actively eating or presenting.
The event will also be livestream virtually for anyone who cannot attend in person. Register for the Zoom webinar here.
Send questions or accommodation requests to Deb@DetroitTransit.org.
Hope to see you there!