How are transit riders and transit services being impacted by coronavirus? Here's a Detroit-area summary.
Stay home if you can!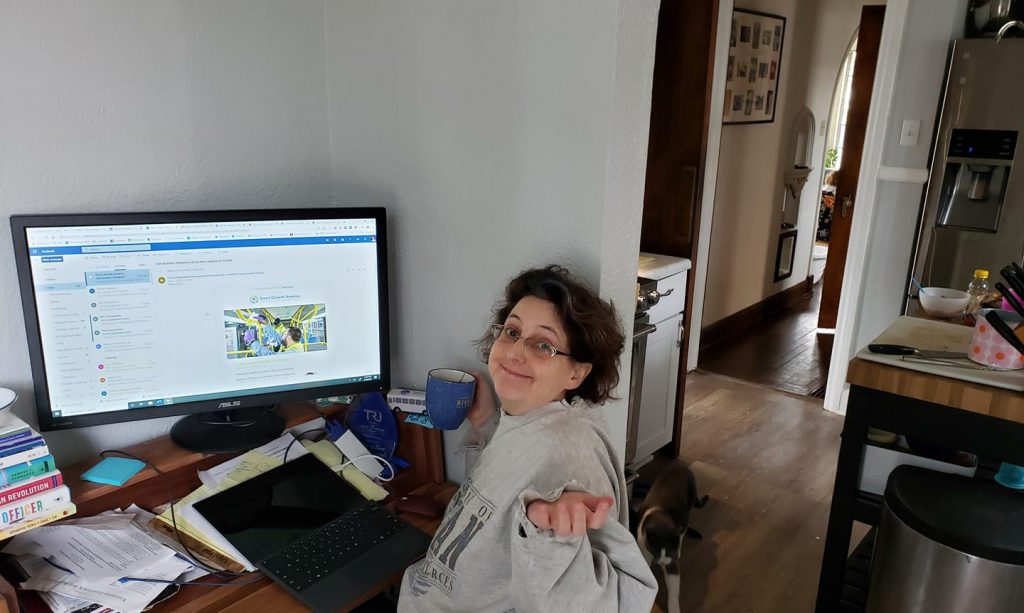 As the experts say, if you can stay home, stay home! Avoid non-essential travel, whether on the bus or other modes. Since people can carry the coronavirus for several days without any symptoms, that's the single best way to slow the spread and save lives!
However, not everyone can stay home.
Transit remains essential for people who can't stay home.
Nurses, janitors, pharmacy techs, grocery clerks, fire fighters – we all depend on these people, many of whom depend on transit!
For everyone who needs it, public transit services are essential and must be maintained, even in emergency situations as we are dealing with today.
Yes, despite the pandemic, you can ride the bus if you need to.
While Governor Whitmer banned "all assemblages of more than 50 people in a single indoor shared space," the rule exempts "assemblages for the purpose of mass transit, the purchase of groceries or consumer goods, or the performance of agricultural or construction work."
Transit is now FREE!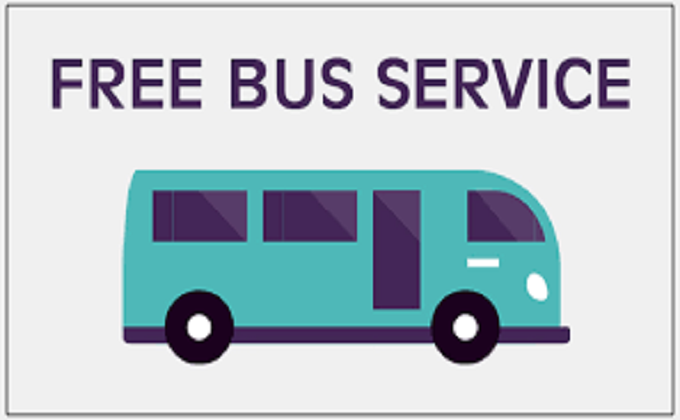 And as a silver lining, (as of March 18) metro Detroit transit service are FREE to ride! This includes DDOT, SMART, QLINE, and Ann Arbor's The Ride.
This is largely being done as a health measure to minimize interactions between passengers and drivers and to minimize the need to touch fareboxes. But it's also a nice relief for passengers!
Transit agencies working to maintain transit, while minimizing risks.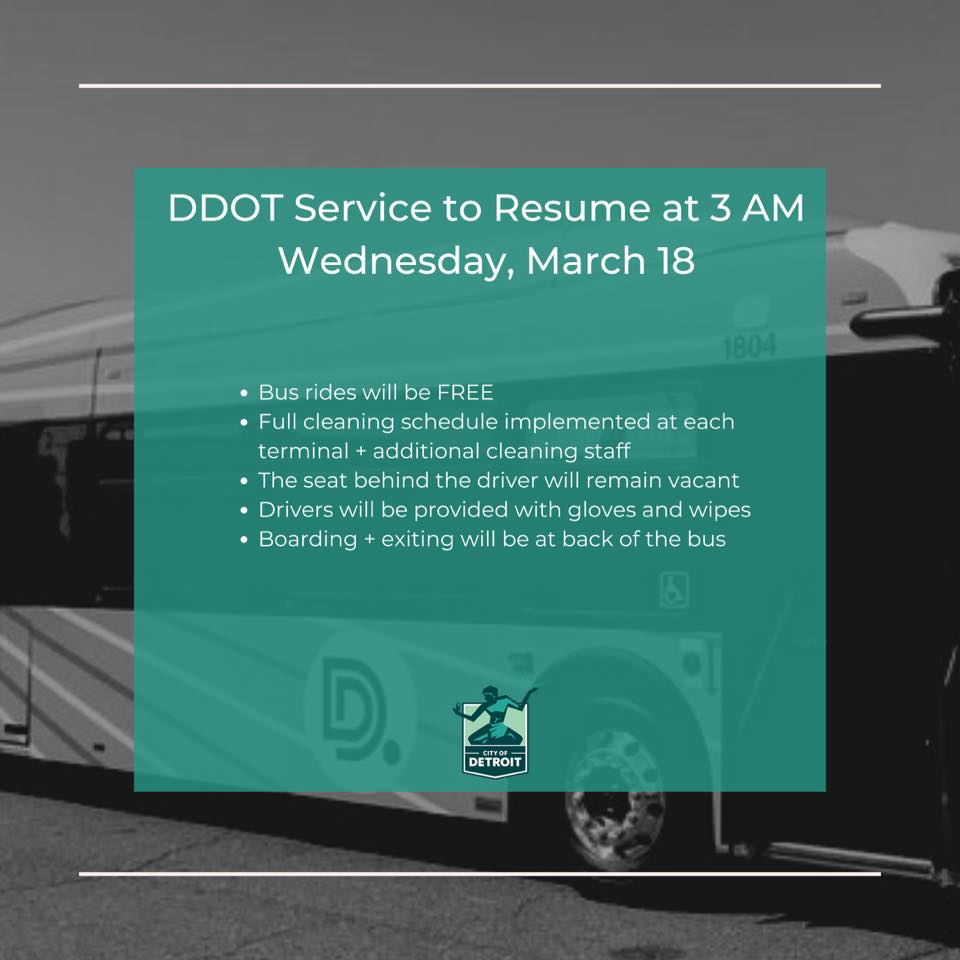 DDOT drivers refused to work on Tuesday March 17 due to concern that they didn't have adequate protective gear, wouldn't have bathroom facilities once restaurants closed, and their concerns weren't being listened to. After that one day stoppage and intense negotiations with Mayor Duggan, those problems have now been resolved and service has been restored.
For the next few months, all passengers who physically can will get on and off SMART and DDOT buses using the rear door of the bus. Riders who need the wheelchair lift or lowered entry can still use the front door.
What's happening elsewhere?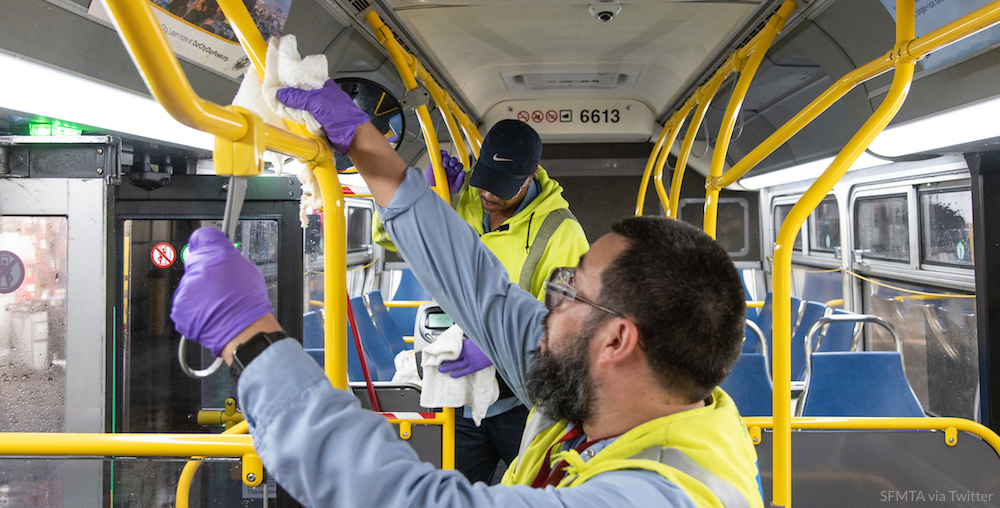 As health officials urge individuals take preventative actions to avoid exposure to and spread of the virus, some common spaces are necessary for the public to occupy — such as mass transit. . . . Transit agencies are taking it upon themselves to combat the spread — and comfort customers — before ridership takes a massive hit.

Smart Cities, " How the 5 largest US transit systems are handling coronavirus," March 9, 2020
As a result, most cities with large transit systems are doubling down on deep cleaning their subway cars, buses, turnstiles, and handrails — doing their best to assuage riders' concerns.

According to Chad Chitwood of APTA, "Public transit systems have longstanding contagious virus response plans that are being adapted, updated, and put into action," most of which revolve around cleaning and reminding riders about best hygiene practices.

Vox, "Should you take public transit during a pandemic?" March 13, 2020
This is clearly a hard time for transit riders, drivers, and the overall transit industry. But this service remains critical, so must be maintained and continue to improve and adjust to the times.