As transit needs and opportunities grow, TRU invites more people to get involved with the transit team as an employee, intern, or volunteer!!
And if you can't commit that level of time, your financial contribution makes all this great work possible!
Internships open in digital media, storytelling, and community engagement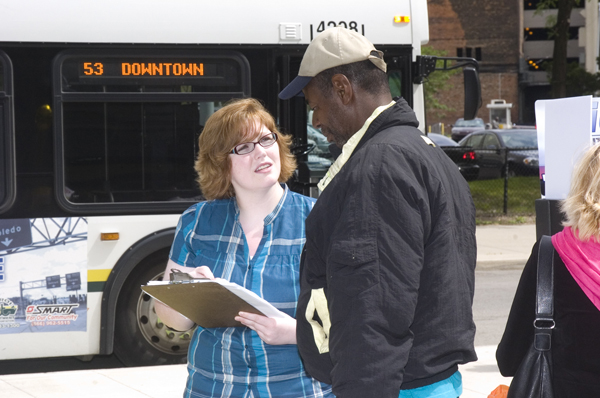 TRU is seeking smart, enthusiastic students and other community members to get actively involved in improving public transit throughout greater Detroit!
Positions vary depending on current projects and priorities and currently include the following:
Community Engagement Intern(s)

The success of transit improvement efforts depend on an educated and supportive community. Build transit understanding and support throughout southeast Michigan by helping arrange and manage community engagement events and talking transit with diverse audiences at community fairs, festivals, fireworks, and farmers markets.
Faces of Transit / Transit Impact Story Intern
Social Media Intern

Help shape TRU's messaging and communications strategies to most effectively build public support for investments in transit improvements and promote action. This will include reporting on transit news and creating original content, including our YouTube webseries 'Tapping Into Transit', and contributing to other communications and outreach projects.
Internships require 10-25 hours a week for at least ten weeks and receive a stipend of $500-1500, bus pass, and possibly course credit, in addition to excellent in-depth experience making hands-on social changes with a fun team. To apply, send a resume and cover letter explaining your interest to info@DetroitTransit.org.
Volunteer opportunities with new TRU Action Teams!
Ready to get involved in the fight for great transit but only have a few hours a month for it?
Join a TRU Action Team! A monthly Zoom meeting and some voluntary tasks on your own is all it requires.
SMART Campaign Action Team – Build an army of activists and supportive organizations and businesses to build awareness and support to renew and expand SMART funding
Let's Talk Transit Speakers Bureau – Train to make transit presentations to community and civic groups, myth-busting, educating, and engaging new people on the value of transit investment
Communications & Content Team – Elevate public perception about the importance of transit (and TRU) through fresh content on our website, social media, video, and in the news media
Transit Metrics Team – develop effective ways to quantify transit access and quality, then rate Detroit area transit and provide specific recommendations for improvement
Interested? Email info@DetroitTransit.org to get meeting schedules and other ways you can get involved!