On Wednesday, July 8th, TRU proudly hosted its' first in a series of virtual town hall events, "Transit during COVID-19". The town hall conversation explored challenges and connected transit riders and advocates with service provider executives. You can watch it online (CLICK FOR VIDEO), enjoy this summary below, and/or read media analyses of the event in metromode and the Detroit Free Press.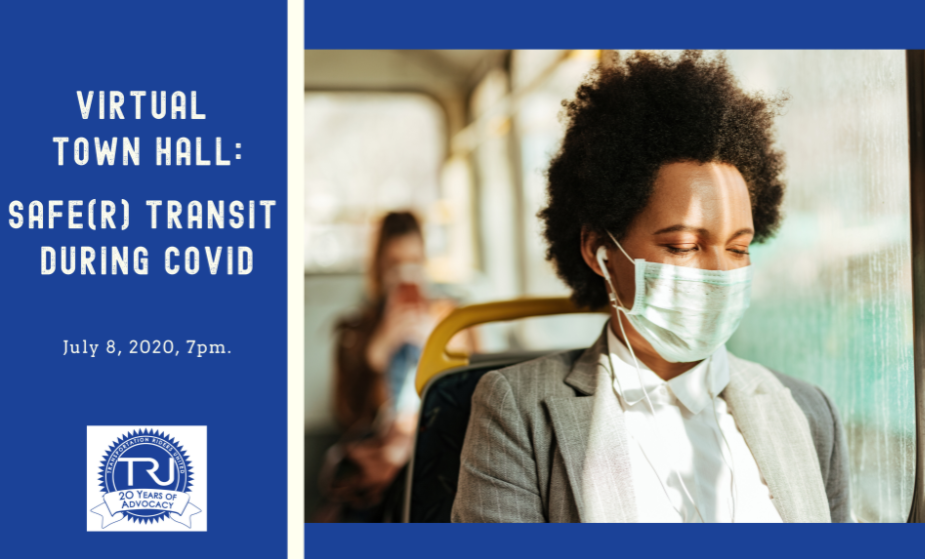 Transit remained essential throughout COVID-19
TRU Executive Director Megan Owens started off the event with context about how all across the country, transit agencies experienced a ridership drop of 60-95% when stay-at-home orders went into place in mid-March. Ann Arbor had a greater drop-off than most due to the University shutting down. DDOT and SMART had less of a drop-off the many because many of their riders are essential workers without other options.
Yet nurses, janitors, grocery clerks, and other essential workers still need to get to the jobs we all depend on them for, so many transit workers stayed on the job too to ensure that access. "We thank the bus drivers who have helped keep our society functioning through this crisis," said Owens.
SMART and DDOT worked hard to ensure safe mobility
During the hour and half discussion, SMART Deputy General Manager Robert Cramer and newly-appointed Detroit Executive Director of Transit Mikel Oglesby explained their safety procedures, gave service updates, and empathized with the audience. They also remain "cautiously optimistic" about the future of Detroit transit.
"In times like these, typically small steps…make sense. We had early adoption of back-door boarding for rider safety…[HR] does extensive employee testing… and we thoroughly sanitize our buses.

"SMART aims to bring comfort to the riding public. We do contact tracing and all staff are required to wear masks at all times…. SMART is looking at short and long term solutions. We have to match service to location."

SMART Deputy General Manager Robert Cramer
Installing driver-protection barriers is another safety precaution SMART is pursuing. "Sneeze shields," as Cramer calls them, will increase safety for both riders and drivers.

Similarly, Oglesby addressed DDOT's COVID-19 service cuts. Oglesby sought to validate rider difficulties, yet did not over-promise solutions.
"People in Detroit still travel on transit in droves. Tough choices had to be made. I would put more buses on the roads, I wish it was that easy."

Mikel Oglesby, Detroit Executive Director of Transit
Cramer and Oglesby yielded numerous audience questions, some more pointed than others. One participant asked about the long-term effect of transit budget cuts. Both indicated CARES Act assistance has put the agencies "in good shape". "We have about 12-18 months operating funds," Cramer answered. Oglesby says that when COVID funds run out, he intends to "keep pushing". "It will either be better and smaller, or we will try to sustain the same [level of service]," he commented.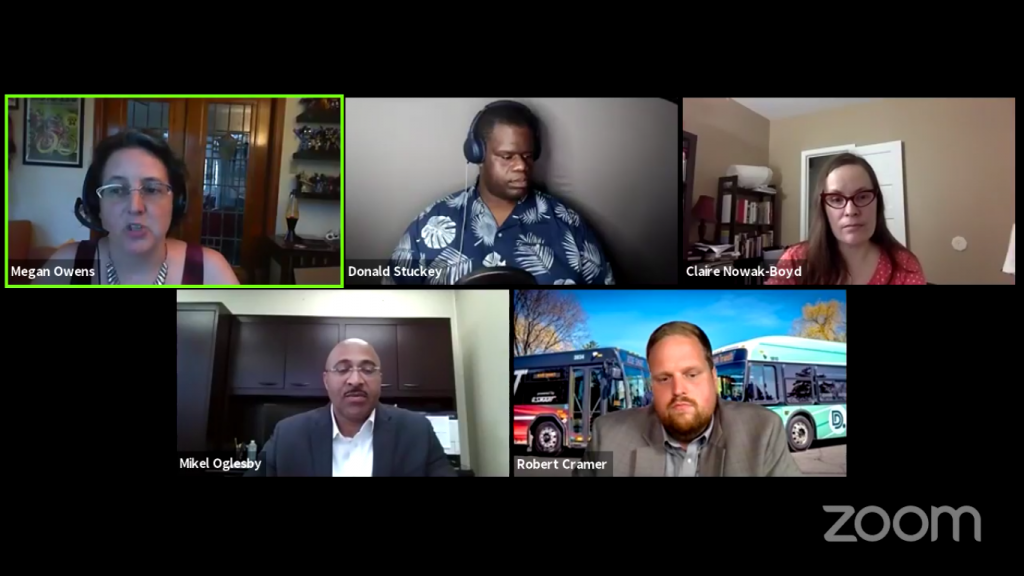 Both leaders assured concerned participants that fare-free service remains in-place, will remain for some time, and that fares would not be reinstated without proper notice of "more than weeks."
In response to complaints that people with non-visible disabilities had not been permitted to use the front doors, Oglesby promised to look into it. He urged riders with concrete complaints about bus driver actions to call them in, as he's following complaints closely. Criticisms are accepted and leadership is not trying to take any shortcuts. As Oglesby bluntly puts it, "we got to listen to the people… and let's be frank: pre-COVID DDOT service needed improvement."
TRU greatly appreciates our panelists time and participation
TRU Board President Donald Stuckey explained that TRU's work is only possible thanks to the contributions of our generous members and encouraged everyone who was not already a member to join today.
"Transit During COVID-19" is the first of several virtual town halls TRU is holding over the next few months. Stay tuned for our next panel on August 12th, "Transit's Role in Mitigating Climate Change", hosted in collaboration with the Sierra Club. Mark your calendar, details incoming!