While it definitely was not the year we expected or hoped or planned for, 2020 was a busy and productive year for TRU nonetheless. Here's a recap of ten important activities and accomplishments in our fight for great transit – with links to where you can get a lot more information.
TRU's Top Ten activities and accomplishments of 2020
The State of Transit 2020: TRU's Annual meeting brought 150 TRU members and other supporters together with leaders of Wayne County, Oakland County, SMART, and DDOT providing updates and bold hopes for big progress in 2020.
2. Legislative efforts for regional transit – TRU joined county and business leaders in pushing for legislative changes to enable a regional transit funding vote, mobilizing hundreds of calls and testifying before committees. Unfortunately, these efforts were blocked in early March by north Oakland and outstate opposition. While the fight has been delay, we and county leaders remain committed to continue the effort in 2021.
COVID-19 Response
In March, the world's attention shifted almost entirely to the novel coronavirus and all non-essential activities stopped. But transit remained essential, since so many nurses, janitors, grocery clerks, and pharmacy techs depend on transit – and we all depend on them!
3. COVID-19 Transit Service Update Center – Throughout the spring, TRU provided a frequently-updated webpage sharing the many changes in routes, hours, and rules for riding different public transit services throughout southeast Michigan – including when the People Mover, QLINE streetcar, D2A2 commuter bus, and even Transit Windsor all shut down.
4. Thank you to transit workers – To show our appreciation to bus drivers and other hard-working transit employees who were critical in keeping our society functioning, we mobilized hundreds of people to sign a joint thank you card which was posted at SMART and DDOT terminals and headquarters.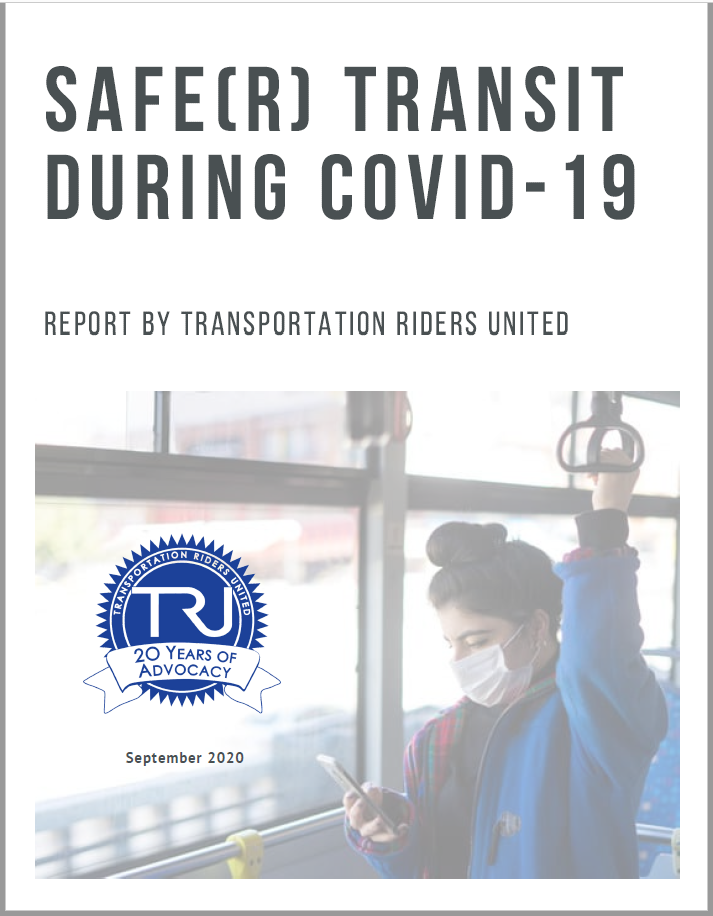 5. Safe(r) Transit During COVID report and education – To help address such a new and unfamiliar situation, we researched best practices globally, talked with bus riders locally, and put together a report summarizing and analyzing ways to make riding the bus as safe as possible despite COVID-19. We then worked to get that information out as broadly as possible, including:
We hosted a Virtual Transit Town Hall, where we shared our research and DDOT and SMART leaders shared what they were doing to ensure safe service and took questions from 50+ riders and other transit supporters.
We summarized our findings in a 15-minute Tapping into Transit video shared on our website and on social media.
We promoted key findings on social media and corrected many COVID-related myths and misperceptions.
And we shared this critical info with area news media and podcasts to broaden its reach.
Virtual Events and Communications
With getting together in person no longer feasible, we, like so many others, shifted our communications and events to online. We held our board retreat and staff meetings online, we testified to City Council and the Planning Commission online, and we hosted our own online discussions – continuing our proud tradition of bringing major transit decision-makers together with riders and other transit supporters.
6. Virtual events, updates, and other communications – We hosted a range of different virtual events enabling transit education, discussion, and fun from the safety of home:
We also developed or expanded other online communications:
We launched special members-only newsletters, providing the inside scoop on top transit news and events.
We expanded our Transit Impact Stories with more features on the many different ways transit impacts people's lives.
And we launched a new Tapping into Transit video series that provides highlights of an important transit issue with a friendly 10-15 minute video dialogue. These included why we supported Proposal 1 on the November ballot, Transit during COVID, What's up with Windsor Transit, an RTA update, and more. They remain available for anyone to watch and learn from on YouTube.com/DetroitTransit. We're open to suggestions of people we should interview and topics we should cover in 2021!
7. TRU Statement in Support of Black Lives and Black Communities –
Outraged and appalled by the extrajudicial murders of George Floyd, Breonna Taylor, Ahmaud Arbery and far too many other BIPOC, TRU added our voice to those demanding equality and justice.
Transportation is inseparable from issues of equity and race, especially here in Detroit. TRU strong believes every person should be safe while walking down the street, riding on a bus, driving their car, or anywhere else, regardless of the color of their skin.
Our team is exploring ways we can be actively anti-racist, starting with redoubling our efforts to be supportive allies to those too long unheard. We commit to better reflect the diversity of our community in our board and staff and to fight against racism that has plagued our community for far too long.
Legislative and Coalition Engagement
Even without a transit funding measure on the ballot, TRU still fought hard for more funding for the transit improvements our region needs. In this case, state and federal legislators were the key decision-makers.
8. Federal CARES Act funding – When COVID-19 struck, bus agencies stopped collecting fares and started doing way more sanitation and cleaning. These changes, along with the economic downturn, could have resulted in catastrophic budget crises. To prevent this, we joined with transit supporters nationwide to urge Congress to include transit in its emergency funding relief bills. The CARES Act included $25 billion to support transit agencies nationwide – a critical lifeline that kept buses rolling throughout this year. As the crisis dragged on and Congress debated more emergency funding, we continued to work with advocates nationwide and won $14 billion in aid in the latest bill. And we'll keep at it as long as transit remains starved for funding!
9. Virtual Roundtable Discussions with state legislators – State legislators have a tough job of learning about the many different issues that impact their constituents, with very few staff to help them. Term limits make that harder, with 1/3 of the legislature brand new every session. So TRU works to help them learn critical issue around transit, including hosting a pair of Virtual Roundtable discussions that brought together state legislators, their staff, bus agency chiefs, bus riders, and other TRU leaders. While we could only touch on the broadest highlights in 45 minutes, it was a good chance to get to know each other. The education and dialogue will continue into 2021.
10. Climate partnerships, advocacy, and education – Did you know that transportation is the biggest source of climate pollution?! And unlike power plant pollution, emission from transportation are increasing!! Electrification of vehicles will help, but people must also shift away from driving their own personal cars everywhere they want to go – convenient, effective transit must be part of that solution. We're working with several regional coalitions to tackle this important issue:
We're proud to be part of the Turn Oakland County Green – a project of the Oakland Climate Coalition. We're leading the transportation component of this important effort to help new Oakland County Executive Dave Coulter develop a bold plan for the County to tackle climate change.
TRU also works with RE-AMP, the Midwest network committed to equitably eliminating greenhouse gas emissions in the Midwest by 2050.
---
Whew! 2020 was a challenging year. Imagine all we can do in 2021!?!
All this work is made possible by TRU members – the people who donate anything from $5 to $5,000 to fund the fight for great transit.
Not yet a member?